5 SEO Mistakes To Avoid
When it comes to search engine optimization, it is not just about focusing on what to do, but also what not to do.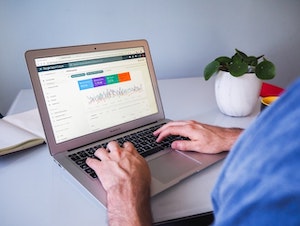 The world of SEO is constantly changing – some techniques are becoming outdated, while others are becoming indispensable. To keep up with these changes, the Pink Dog Digital team has created a comprehensive list of common SEO mistakes to avoid.
Ignoring Off-Site SEO
Many small businesses believe that the only way to improve SEO is by focusing on their website. But the truth is that on-site optimization will only get you so far.
In order for your website to appear at the top of search results pages, off-site strategies should be incorporated into your SEO plan. Off-site SEO refers to efforts taken on websites outside of your own, including building links, posting on forums, sharing content, and connecting with other brands and influencers.
In addition to ignoring off-site strategies, another common mistake is participating in black hat SEO. Brands should never buy links or enroll their website in link exchange schemes. Instead, brands should focus on building links naturally by creating high-quality content for other websites. Creating videos, podcasts, infographics, or blog posts for other respectable companies in your industry will not only build quality backlinks, but also increase organic traffic back to your website.
Forums are another great way to promote your website. Many users use online forums to ask questions and discuss interesting topics. By answering these questions and sharing information, brands are able to meet peers and potential customers while building backlinks.
Not Conducting Regular Website Audits
The best way to avoid technical website issues that will damage your SEO is to conduct regular website audits. Search engines prefer to rank websites that will provide searchers with a good user experience.
If the navigation menu is not user-friendly, information is hard to find, loading speed is slow, or multiple error pages are popping up, then users are more likely to abandon your website. A website audit allows brands to view their website from the user's perspective in order to pinpoint these areas of improvement.
It is good practice to conduct a full website audit every three to six months, but if possible, brands should review their website on a weekly basis to avoid major issues.
Placing Text In Images
Every brand should know that textual content is key when it comes to search engine optimization. Search engine algorithms are designed to crawl through websites in search of keywords and phrases. This allows search engines to find the most relevant and useful websites to show as results for search queries.
In order for search engines to crawl textual content, they have to actually be able to find it first. One of the biggest SEO mistakes a brand can make is placing important text in images or videos, rather than on the webpage.
Not only does this hinder SEO, but these images can present accessibility issues. Screen readers and other assistive technologies can not read images of text, which means visually impaired users are at risk of missing the information.
If a user has a slow or unreliable internet connection, images and other graphics might not load properly or at all. Images of text also might not be able to adapt to different screen sizes or orientations, leaving them unreadable.
Leaving Old URL Structures
Redesigning your website can be a tricky and tedious task. When doing so, it is common for businesses to accidentally leave old URL structures in place.
After the website revamp is complete, brands should redirect traffic from old URLs to the new URLs. If you do not set up the redirect, search engines will not know where to send users, or worse, they will send them to a webpage that shows a 404 error.
Redirecting all your old URLs is the only way to ensure your website's SEO health is not damaged and will rank on SERPs. This will also ensure any bookmarks or social media links will still work after the new website goes live.
Only Linking To Homepage
Another fatal SEO mistake that businesses make is building too many links to their website's homepage. Instead, brands should consider linking to internal pages, such as product pages, service pages, blogs, contact pages, or about us pages.
Internal linking allows search engines to better understand the structure of your website and how your content is connected. Search engines will then know which web pages to prioritize when ranking by identifying which webpages are the most important and valuable to users.
If you would like more information about common SEO mistakes to avoid, need help improving your website's search engine optimization, or other digital marketing services please contact
Pink Dog Digital at (410) 696-3305, email us at info@pinkdogdigital.com or visit us on the web at www.pinkdogdigital.com.