Why Internal Linking Matters
Aside from creating content that answers questions and enhances user engagement, internal links are arguably the most important facet of On-Page SEO. It gives Google context regarding the subject matter and a page's hierarchy within the site. For this reason, there must be a rhyme and reason as to why content marketing professionals link to certain pages and use specific anchor text. While magicians never reveal all of their secrets, here's a basic guide to better internal linking.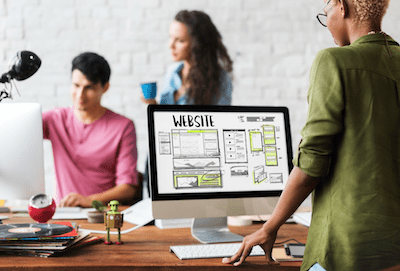 Your Most Important Internal Link Goes Above the Fold
Let's suppose you're writing an informative blog about a particular subject. While your primary goal should be to give the user a valuable experience (write for PEOPLE, not search engines), you should keep two other things in mind when thinking of your most important link:
The page's parent topic – If you're writing about On-Page SEO vs Off-Page SEO, then the most relevant link would lead back to the main SEO page. This is good from a user's perspective because it will lead them to a page with more information. This is good from a revenue perspective because the information on that page is likely to lead to a customer conversion.

The keyword variant you want to use for anchor text – Using the above example, perhaps your page ranks well for "seo services" but doesn't rank as high for "seo agency." You'll want to use "seo agency" or even "seo marketing agency."
Once you settle on the right anchor text, the idea is simple: send a signal of relevance to Google and put that anchor text above the fold, preferably in the first paragraph before the first subhead.
Also, you won't get bonus points for using the same link twice. In fact, that could create a negative user experience, so don't do it. Also, avoid exact match anchor text. Use long-tail variants whenever possible. AHREFs, Moz, and SEMrush are good resources for long-tail alternatives.
Internal Linking to Parent Pages and Related Pages When Applicable
Now that you have your most important keyword, consider how you can further guide Google. Using the Pink Dog website as a guide, you should probably link back to the SEO page's parent, which in this case is related to the digital marketing services we offer. Use a similar idea to how you chose anchor text for the blog's most important keyword.
Look to also link to pages that are closely related but different (blog and content marketing, common digital marketing questions, etc). All of this will help Google evaluate your site architecture and hierarchy.
Other Miscellaneous Internal Linking Dos and Don'ts

According to Neil Patel, five to 10 links for every 2,000 words is good practice.

Create a natural experience for your user and evenly distribute your links. Don't just slam them all in the end.

All internal links must be do-follow. Most CMS's have this already built in as a default, but it doesn't hurt to check. If an internal link is no-follow, Google can't crawl it.

Even though we're talking about internal linking, a word about external links: if you use them, try to make the anchor text devoid of any keyword value, simply because we don't really want to pass link juice away from the site. This is a good example.

There are different schools of thought on this, but for the most part, you'll be linking to landing/core pages instead of blogs. Linking to blogs can be good for expanding on a certain topic, but for the most part, we're trying to lead users back to a more relevant/higher converting page.
You Might Have the Blueprint, But Do You Have the Time?
Replicating this internal linking strategy might seem easy, but trust us: it's not. Plus, do you really have the time to do researching the right keywords or diving into competitor analysis to find content gaps? Probably not.
That's where Pink Dog Digital comes in. Call us at (410) 696-3305 to see how we can take your digital presence to the next level.