DCi ITS Launch Blog
The team at Pink Dog Digital recently designed a brand new website for Diverse Concepts (DCi ITS)! It was a pleasure to work with their entire team to bring this website to life, and we are very eager to share the results with you.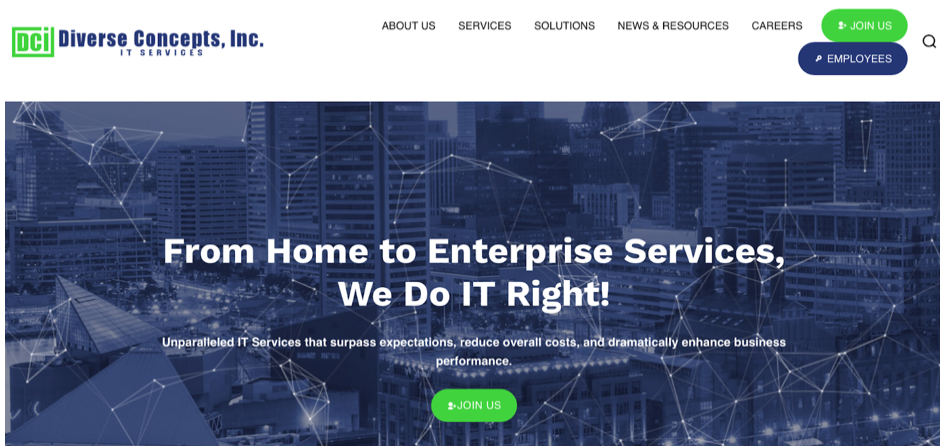 Design Choices
The Diverse Concepts (DCi ITS) website design is clean yet bold and bright. The site intelligently uses a white background to compliment the blue and green logo colors and incorporates this color palette throughout the entire website. This not only keeps the website consistent but makes it easier to navigate.
SEO and Programming
Diverse Concepts' site was modernly built and thoroughly optimized. The lack of dropdown menus make this a clear website from the 2020s, which is precisely what people want to see.
The site was also fully optimized with currently ranked keywords and new keywords to help boost the overall SERP (search engine results page) ranking for the site, which also helps with sales conversions.
You can also see that the website lists the client's contact information and social links in the footer. This helps users find the information they need and makes it easier for bots to crawl the site. When bots can easily view the hierarchy of pages and contact information, they can properly index the site.
About Diverse Concepts (DCi ITS)
Diverse Concepts (DCi) has been providing technology solutions and consulting services to private sector clients since June 2002. They offer a range of technology products and services, including Systems Engineering & Architecture, Network Engineering & Architecture, Information Assurance & Security, Secure Wireless, Computer Forensics, and Program Management.
They only employ highly trained personnel to provide the highest quality of Information Technology services for their clients. This allows DCi to focus on continuous innovation related to advancing the user experience, overall efficiency, and staying ahead of the curve.
Are You In Need Of A New Website?
If you are looking to redo your website but don't know where to start – Pink Dog Digital can help.
We are a full-service digital marketing agency providing web design, development, SEO, social media services, and more. So let us take the marketing worries off your hands to let you focus on what matters most with your business.
Give us a call today at 410-696-3305 or contact us online for more information. We look forward to connecting with you!