Potomac Partners Launch Blog
Pink Dog Digital loved working with the Potomac Partners team to bring their new website to fruition. This contemporary website is super eye-catching and appealing to users. With its clean build, you can easily navigate to any area of the website you are looking for.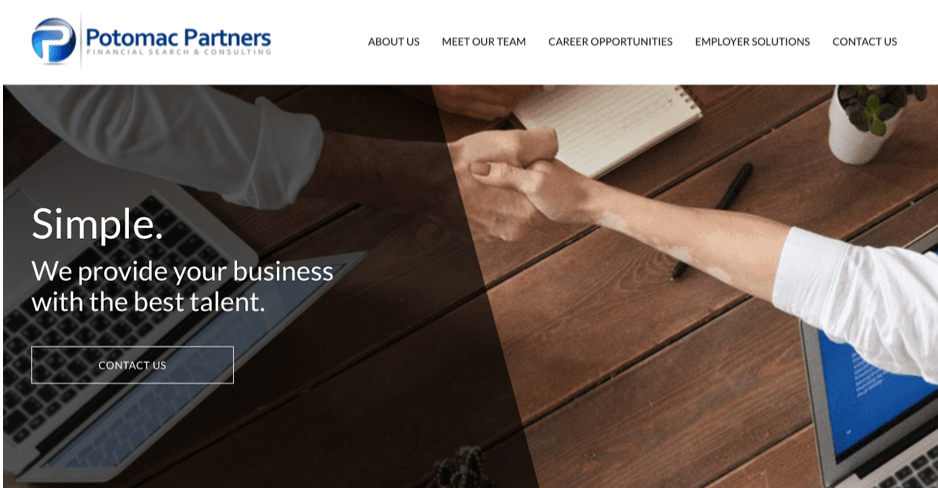 Design Choices
With the new Potomac Partners website, potential customers can access several website areas via the main navigation, home page, and footer.
We also chose to stick close to the brand colors to encourage brand recognition and make the site stand out. Their brand colors are compelling and bold, which helps them quickly come to mind whenever someone mentions their brand. We wanted to keep this continuity and honor this company's recognition.
SEO and Programming
We emphasized search engine optimization (SEO) with this project, as with all of our websites. Keywords are interspersed throughout each page, and locations are included in the footer for maximum visibility. This collaborative effort will help boost the overall SERP (search engine results page) ranking for the site, which also helps with sales conversions.
About Potomac Partners
Potomac Partners is a full-service recruiting firm based in Maryland that specializes in the recruitment and placement of top financial professionals to meet the needs of their clients. Their clients include some of the world's most prestigious and reputable Fortune 500 companies to early-stage, pre-IPO companies in various industries.
Due to the personal and confidential nature in which they conduct searches, Potomac Partners has established a broad network of talented professionals giving the reputation as one of the leading executive search and recruiting firms in the Washington DC and Baltimore area.
In Need Of A New Website?
Is your company interested in a redesign? Pink Dog Digital is a full-service digital marketing agency providing website design and more. Give us a call today at 410-696-3305 or contact us online for more information.
We look forward to connecting with you!