LinkedIn Announces Launch of Company Product Pages
A majority of consumers participate in online research before buying a product or service. For this reason, it is critical for small businesses to focus on their product's online visibility and reputation.
In an effort to help brands with these two key factors, LinkedIn has recently announced the rollout of their newest feature: Product Pages. These pages will provide companies with a designated space to showcase their products and services all within the professional networking platform.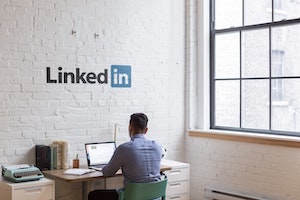 On company pages, users will be able to find the new Products tab in the navigation menu located on the left-hand side of the screen. If your company has multiple products, this tab will direct users to an alphabetical listing of your products. If your brand only offers one product, the tab will open to your single, main product page.
These individual product pages will allow brands to generate leads and boost sales. To help small businesses successfully create and publish their pages, below is all the information you will need for each product or service.
Product Descriptions
Each LinkedIn product page is complete with a section titled "About the product", which allows brands to explain why their product is worth purchasing. In this section, brands should always include individual product features, details, and specifications.
Aside from specific features, product descriptions should also describe the problem it solves for the user. By focusing on your ideal buyer, brands will be able to show the value of the product by highlighting the benefits it offers consumers.
Within the About section, brands should also include a link to the product page on their website. This will allow potential consumers to learn even more about the product, and more importantly, purchase the item if interested.
Rich Media
When shopping in-person, consumers are able to immediately assess the product based on look, size, shape, and color. But online users do not have this luxury. Instead, online buyers rely on products and videos for a first impression.
On LinkedIn product pages, images and videos should bring products and services to life. To do so, all content needs to be high-quality to offer an accurate representation. If users are not impressed by your images, they are more likely to choose a competing brand.
When uploading product images to your LinkedIn product pages, be sure to include various angles, different color options, and different contexts to show users exactly what to expect. Product videos can be used to demonstrate the benefits of the product, share customer testimonials, or even compare two different products.
If your brand offers an online service, screenshots are a simple, yet effective way to show users exactly what your brand has to offer.
Customer Spotlight
When researching brands and products, users tend to trust the opinion of fellow consumers significantly more than the brand itself. That is why the customer spotlight section is one of the most important sections on LinkedIn's new product pages.
This section displays existing featured customers and information about that company, including the company name, industry, number of followers, and relevant connections. This gives potential customers the opportunity to learn more about these customers and decide for themselves whether this information is helpful or damaging.
Ratings and Reviews
In addition to showcasing current users of your products, LinkedIn product pages enable small businesses to gather ratings and reviews from present and past consumers.
LinkedIn users can rate the product on a scale of one to five stars, with five stars being the best. Additionally, users can leave a brief review of the product, along with product strengths such as "innovative features", "easy to use", or "good support."
Each review also gives insights into the consumer, including their name, job title, and company. This is important because it ensures that each rating is authentic and unsolicited.
Call-To-Actions
LinkedIn understands that no product page would be complete without a call-to-action button. Once they have learned about the product, CTA buttons are designed to guide the user toward the specific action you want them to take.
Brands can choose from six different CTA buttons: Download now, Get started, Request demo, Try now, Contact us, and Learn more. All of these buttons serve to generate leads and prompt users to take further action – action they might not have taken without the convenient call-to-action.
Target Audience
Another feature of LinkedIn product pages is the ability to add a target audience. If your product or service is helpful to all users, brands can indicate that their product is intended for everyone.
Or if your product is specifically valuable to certain users, brands can add up to ten different targeted job functions. This serves to boost the visibility of your product to users with these job titles through LinkedIn search result pages.
If you would like more information about LinkedIn Product Pages, need help maintaining your brand's LinkedIn page, or other digital marketing services please contact Pink Dog Digital at (410) 696-3305, email us at info@pinkdogdigital.com, or visit us on the web at www.pinkdogdigital.com.