2021 Instagram Trends: Creative and Engaging Content
Many brands and individuals are hopeful that the start of the new year will bring promise of change. In the world of social media, this change has already occurred.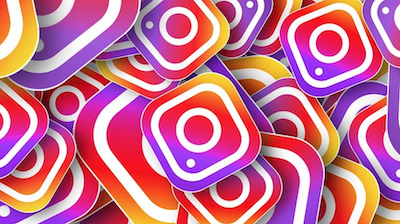 Instagram aesthetic trends are in a constant state of change as brands attempt to be more creative and engaging than ever.
In order to help our small business community grow their brand and remain relevant, PDD has compiled a list of the top Instagram trends of 2021 to follow.
Animated Elements
For many years, the ideal Instagram feed was considered tidy and polished. In 2021, the refined aesthetic has been replaced with animated and other vibrant elements.
In order to enhance static imagery, consider adding a simple animation in the background. Brands can also create GIFs or Boomerangs using photos and videos.
These animated elements are more engaging and interesting than regular content, which means users will spend time interacting with the post. This is especially important given that the Instagram algorithm prioritizes posts from accounts you care about and spend a lot of time interacting with. Long story short – incorporating animated posts into your Instagram feed will boost your content overall.
Moodboard Collages
If you are looking to be extra creative on Instagram in 2021, look no further than moldboard collages. This trend involves creating pieces remnant of homemade scrapbooks, complete with various pictures, fonts, textures, annotations, and lines.
Moodboard collages are highly versatile, which means they will work for almost any brand, product, service, photo, or text. These one-of-a-kind collages allow brands to create unique and stylish content that will not only grab the attention of their audience, but also share more content. For example, a collage could be used to show off a new product from various angles, show before and after photos, or even showcase multiple services at once.
Memes
A meme is a humorous piece of content spread on social media that represents social ideas, current events, or Internet culture. Memes have always been a powerful communication tool among online users, but in 2021, they are finally breaking into the professional world of Instagram.
Brands can use relevant memes to connect with their audience on a personal level. These comical images provide brands the opportunity to subtly promote their business without coming across as pushy or greedy.
By design, memes are meant to be shared, which makes them a great way for brands to increase their visibility and engagement. If members of your audience enjoy the meme, chances are, their followers will enjoy it to – opening the door to your target audience.
The best memes are not only entertaining and witty, but they should also be relevant to your brand, products, and services. In addition to making your own memes, you can also find promising images on Twitter, Reddit, or even other IG accounts.
Inclusivity and Accessibility
On Instagram, there is a significant shift of focus to inclusivity and accessibility for all users. This allows brands to accurately represent their various communities they serve through their content.
Content should resonate and reflect users of all backgrounds, race, ethnicity, gender, ability, age, orientation, religion, and other key demographics. By doing so, brands can ensure they are not actively excluding or insulting any groups of people.
The best way to achieve inclusion and accessibility is by incorporating culturally and racially diverse individuals in your imagery, as well as using subtitles, captions, image descriptions, and alt text.
If individuals do not feel recognized or valued by a business, they will no longer follow, engage, or purchase products and services from them. Creating thoughtful and respectful Instagram content will not only help brands deepen their connections with customers, but also positively impact social change.
Despite developing in recent years, this trend will not be just another temporary fad – inclusivity and accessibility should never go out of style.
Realistic Edits
After all the challenges brought out in 2020, there is no surprise that realism and authenticity has become an important trend in 2021. Once upon a time, over saturation and obvious edits were all the rage on Instagram. But nowadays, small realistic edits are becoming an increasingly popular way for businesses to show the truth behind their brand.
This trend involves applying subtle filters and making small adjustments to color, brightness, or contrast. These tiny tweaks allow brands to create consistent and curated content without completely changing the overall image.
Realistic edits allow for transparency and vulnerability, making it easier for individuals to relate to your brand. Showing the good along with the bad can pave the way for more genuine experiences and deeper connections.
Microblogging
Up until 2019, users focused on creating short and snappy Instagram captions. But after that, long and descriptive captions Instagram captions became the norm.
In 2021, the long caption trend does not seem to be stopping. In fact, we expect IG captions to get even longer as microblogging begins to increase in popularity.
Microblogging involves creating short-form blog posts about important brand news, helpful tips, product information, and other rich content. Using Instagram to microblog allows brands to share content in real-time, in an effort to increase engagement, boost followers, and create an online narrative.
Rather than the standard 500-800 word blog post, Instagram captions are limited to 2,200 characters. While this does not allow brands to express nearly as much as regular blogs, this character amount is the perfect length to attract and keep your audience's attention.
Brands can use this opportunity to share stories and be more personal and authentic on their Instagram account. Since users will be spending more time reading the long-form caption, users will also be encouraged to interact by liking, commenting, and sharing their own story or experience.
Grit and Grain
It is safe to assume this next Instagram trend is at least partly inspired by the return of retro fashion trends in 2021.
Not too long ago, it seemed that posting a bad quality or blurry photo to Instagram was a serious transgression. But in the past few years, the unwritten rules of Instagram have been completely rewritten.
Instead of only choosing picture-perfect images or videos, brands and users are purposely uploading gritty and grainy content.
Brands can recreate these trends by using popular editing tools, such as VSCO, Photoshop, or Afterlight. The goal is to increase the level of grain, add dust filters, light leak filters, or any other vintage-inspired effects to turn photos and videos into stunning lo-fi material. To achieve an even bigger dramatic effect, convert your content to black and white.
Grit and grain is the perfect trend for brands and small businesses that want to curate an artistic and vintage Instagram feed. The muted effects can help photos to feel softer, allowing brands to create a more warming and welcoming atmosphere through their social media platforms
If you would like more information about 2021 Instagram trends, need help employing these Instagram trends, or other digital marketing services please contact Pink Dog Digital at (410) 696-3305, email us at info@pinkdogdigital.com, or visit us on the web at www.pinkdogdigital.com.