How To Write A Call To Action
A call to action (CTA) is designed to guide users to take a desired action on your website, such as subscribing to the newsletter, purchasing products, signing up for services, donating, volunteering, or learning more.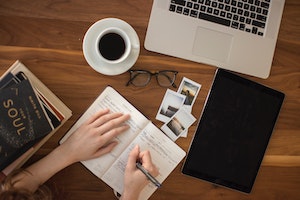 One of the biggest mistakes a company can make is putting little thought into their call to actions – the stronger the CTA, the more effective it will be. If you are not sure how to write a call to action, here are some tips that will help you craft concise CTAs that yield results.
Use Action Words
The entire purpose of a CTA is to call the user to take a specific action, and the only way to do this is by telling the reader exactly what you want them to do. This can be done by using verbs and specific action words.
Using vague call to actions, such as "Learn More" or "Discover More" are not persuasive or informative. Instead, try using more direct call to actions, such as "Click here to buy your tickets" or "Download E-Book Now." Designing a more specific call to action will not only make it clear to users what you are asking them to do, but also what the outcome will be once they fulfill that action. Being transparent allows brands to build trust with users, which in turn, will encourage them to complete the desired action.
Clear and Concise
The key to an effective call to action is being clear and concise. If the accompanying content is too long or too confusing, the user will exit the website before they even have a chance to complete the CTA.
When writing the call to action, only include details and information that will be relevant and valuable to the reader. Do not use any language that would be considered promotional or pushy. It should be short and sweet, yet still have the power to persuade users into converting.
The CTA should also briefly describe what the user should expect after clicking the button. Will it direct the user to a different page or initiate a download? When crafting a call to action, there should be no room for surprises. If the user does not know the outcome of the CTA, they will likely be hesitant about clicking through.
Highlight User Benefit
If your call to action includes a special discount or limited time offer, do not be afraid to incorporate that into your wording. A majority of users hope to get something in return from completing an action, which means offering a benefit upfront will motivate the reader to do exactly what you want them to.
The best way to highlight user benefit when writing a CTA is using the word "for." This simple three-letter word can be the difference between a high conversion rate and a low conversion rate.
Instead of using a boring and generic phrase like "Subscribe now", replace it with "Subscribe now for 15% off your first order." Another example would be turning "Contact us" into "Contact us for a free consultation." Adding this little detail has no negative impact on your business and will give users just the right amount of encouragement they need to become customers.
Focus On Design
When designing a call to action, always make sure it stands out on the page to ensure it is visible to viewers. This is especially important for CTAs that appear on webpages with a lot of text, such as blogs or About Us pages.
There are a variety of different ways to help CTAs stand out, including highlighting, underlining, or bolding the text. Using a different color background, including interesting graphics, and outlining the CTA will also prevent users from glancing over the call to action. All of these design elements will work to catch the eye of the reader and incite action.
Add A Personal Touch
Users are on your website for a reason – they want to take action, but they just need a little encouragement to do so. Adding a personal touch to your CTAs can play to their emotions and prompt immediate action.
Generic one word call to actions will not inspire action. Instead use phrases like "Get Your Workbook Today" or "Claim Your Free Trial." Personalizing the experience will draw the user in and encourage them to jump on the opportunity so that they do not miss out.
A personal touch can also be achieved by incorporating an open-ended question into your call to action. Instead of writing "Would you like a tutorial?", try saying "What can we do to help you?" This question leaves it entirely up to the user's interpretation and makes them more interested in what your brand has to offer.
If you would like more information about how to write a call to action, need help designing your call to action, or other digital marketing services please contact Pink Dog Digital at (410) 696-3305, email us at info@pinkdogdigital.com, or visit us on the web at www.pinkdogdigital.com.