What Are Content Creation Best Practices?
As we head into the new year, there is no better time to start fresh with new content creation habits. There is no denying content creation is one of the most important marketing strategies, but it can also be one of the most difficult practices to master.
That is why Pink Dog Digital wanted to take a deep dive into content creation best practices to help small businesses generate fully optimized website and blog content.
Text
When creating content, many businesses think they need to write long, complex sentences filled with high-level vocabulary words in an attempt to build brand authority. In reality, over complicating your text will have adverse effects on your content.
Instead, brands should focus on creating short and concise content. This allows users to quickly scan content and still be able to obtain the most important information.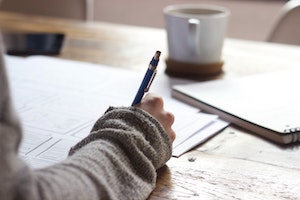 To further help users understand your content, every webpage and blog post should include bullet points, bold, and italics. These essential elements alert both search engines and readers to information that is crucial to the overall meaning of the content.
While the sentences should be short and straight-forward, the overall content piece should be much longer. When it comes to pillar pages or product and service pages, the text should be a minimum of 500 words long. When it comes to blog posts, the word count should land between 1,000 to 2,000 words. These best practices for lengths have been proved to provide users with all the necessary information without becoming boring or redundant.
Keyword Research
The goal of content creation is coming up with pieces that will remain relevant and valuable for many years to come. To achieve this goal, brands should be incorporating both evergreen keywords and trending keywords.
Evergreen keywords are industry topics that users will always be interested in, whereas trending keywords are topics that users are interested in for the moment. Using these keywords to your advantage will not only provide your website with a consistent flow of traffic, but also help establish your business as an industry expert.
Creating a detailed buyer persona for your business is crucial when determining the best keywords for your content creation. Think about what your buyer would be searching for, what keywords would they use, what keywords would attract them to your content, and what call-to-actions would be the most impactful. All of this information will help you understand your ideal consumer, and more importantly, how to create content to better target them.
Internal Links
Internal links are used to direct users from one page to another page on your website. When creating content, it is crucial for brands to use internal links naturally and sparingly. Stuffing your content with internal links is extremely off-putting to users and will result in your web page being penalized by search engines.
For internal links, content creation best practices recommend including target keywords in anchor text, minimizing duplicate links, and guiding users to high converting pages.
Title Tag
A title tag is the coded element used to signify the title of a web page. Since this title is the clickable headline that is displayed on search engine results pages, it should explain what the web page is about to both the search engine and the searcher.
When writing title tags for your content, it is best practice to include the target keyword in the beginning of the title, feature numbers, keep it under 60 characters, and use parentheses. Incorporating these tips have been shown to optimize your content and increase your click-rate.
Header Tag
Header tags are HTML elements used to discern headings and subheadings from the body of the content. These tags are especially useful in providing structure for listicle style articles – search engines will use these header tags in the featured snippet.
To optimize your header tags, be sure to use your main keyword or related keywords in all your headers. The keywords should be added organically through the headers. The headers should be a maximum of six words long as they are meant to simply describe the section, not give in-depth details.
Meta Description
Similar to a title tag, a meta description is a coded element, but one that provides a summary of the entire web page. It is located underneath the title tag on search engine result pages.
The best meta description will work in conjunction with the title tag to encourage the user to choose your content over competitors. Always incorporate target keywords into the description to highlight your content's relevance to the user's search query.
The recommended length for a meta description is between 150 to 165 characters – anything longer might be cut off by the search engine and not shown on the results page.
One of the best things about meta descriptions is that you can always change them over time. If your current description is not driving any traffic, you can rewrite them to make them more interesting and gain more visibility.
If you would like more information about content creation best practices, need help creating content for your business's website or blog , or other digital marketing services please contact Pink Dog Digital at (410) 696-3305, email us at info@pinkdogdigital.com, or visit us on the web at www.pinkdogdigital.com.