What Is Digital Marketing?
The purpose of marketing is for businesses to connect with their target audience in order to build trust or make a sale. It is critical for these businesses to meet consumers where they are in order to be successful. 
Many brands have relied on traditional marketing tactics for decades. Some of the most common are print ads, brochures, telemarketing, and direct mail. But with the advent of the Internet, smartphones, and electronic devices, these conventional strategies proved to be less effective. More and more individuals began turning to social media over newspapers and magazines.
In order to stay in touch with the 4.6 billion active Internet users worldwide, brands began using a brand new strategy to continue reaching and expanding their audience: digital marketing. 
Digital marketing represents all the online marketing efforts that businesses use to connect with consumers. Some of the most popular include: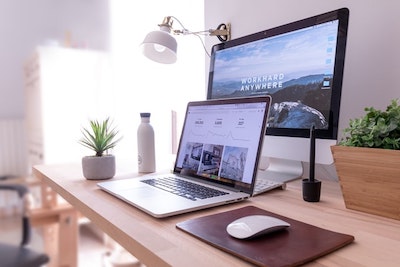 · Social media
· Email
· Search engines
· Websites 
Each has its pros and cons for different businesses, but at least some kind of digital marketing is beneficial for all businesses! 
Benefits of Digital Marketing 
Digital marketing gives brands an opportunity to reach consumers in a fast-paced world – one where traditional marketing methods are often ignored. Within this larger audience, brands are also able to target specific consumers in an effort to optimize their efforts. 
For example, if a brand places an advertisement on a billboard or in the newspaper, it has little to no control over the ad's audience. Simply put, the audience will be whoever drives past the billboard or reads the newspaper. Plus, these types of ads do not allow for effective tracking and metrics.
When a brand places a digital advertisement on a social media platform or search engine, it is able to target a specific audience based on key demographics. The business has full control over who sees the ad, making it more likely to be cost effective. 
Digital marketing efforts are also highly-adjustable and measurable, giving brands much more flexibility and allowing them to pivot quickly.
Virtually all digital marketing campaigns are complete with tracking tools and insights, including impressions, shares, views, and clicks. If a campaign isn't performing as well as expected, brands have a variety of options to choose from to improve the results, including editing the content, altering the target audience, decreasing the budget, or reducing the ad run time.
Conventional marketing tactics, on the other hand, don't allow for effective tracking and metrics. It's nearly impossible to accurately estimate how many people might have seen a print ad, and more importantly, how many people took action after seeing the ad.
Plus, brands aren't able to change or edit these types of conventional ads – once it's published, there's no going back. 
Types of Digital Marketing 
Digital marketing looks different for every small business – what works for one brand's audience might not work for another brand, which is why it's important for brands to not only understand their audience and consumer base, but also understand the different types of digital marketing. 
Search Engine Optimization 
Search Engine Optimization (SEO) involves optimizing a website in an effort to rank higher on search engine results pages (SERPs), which helps to increase website traffic. This type of digital marketing is popular and also crucial – the better your results in Google, the more likely you are to attract your targeted audience! 
There are two main strategies when it comes to search engine optimization: On-Page SEO and Off-Page SEO.
On-Page SEO focuses mainly on the website's content, including keywords, meta descriptions, title tags, alt. text, and length of content. Off-Page SEO encompasses everything that takes places outside of the website, such as backlinks from other websites and online reviews from clients or customers. 
Content Marketing 
Content marketing involves creating, publishing, and promoting pieces of content through online platforms. When it comes to content, there are dozens of different types to choose from, including: 
· Blogs
· Infographics
· Checklists
· Photos
· Videos
· Podcasts
· Emails
· White papers 
Brands have the power to choose the format that best works for the overall purpose and goal of the content, whether that is increasing brand awareness, generating leads, or boosting traffic.
Additionally, and often most powerfully, brands can repurpose content in several different formats depending on the audience and platform. For example, Instagram is a visual medium, which means a photo or infographic might work best. However, that same content on Facebook might be better received through a blog or video. 
Social Media Marketing 
Social Media Marketing Strategies is arguably one of the most popular and well-known types of digital marketing. Similar to content marketing, businesses are able to utilize the social media platforms that work best for their brand and audience. The most commonly used channels are Facebook, Instagram, Twitter, LinkedIn, TikTok, Snapchat, YouTube, and Pinterest. 
Online Reputation 
One digital marketing medium that far too many businesses ignore is online reputation. Most businesses only consider digital marketing to be the efforts they actively produce and forget to pay attention to the digital content others are creating for their brand, such as online reviews and social media posts or comments. 
Brands should not only be promoting this user-generated content, but also responding to these posts to further build relationships with their current consumers and humanize their brand for future users.
Answering reviews, both positive and negative, is also incredibly important. It shows anyone who is considering working with your brand that you are actively engaged and welcome feedback. It may also entice others to leave reviews, which can be beneficial for your brand. 
Finding Digital Marketing Services 
If you would like more information about digital marketing, need help understanding the different types of digital marketing, or other digital marketing services please contact Pink Dog Digital at (410) 696-3305, email us at info@pinkdogdigital.com, or visit us on the web at www.pinkdogdigital.com.