Creative Solutions Website Launch
We at Pink Dog Digital are thrilled to be launching the new and improved website for Creative Solutions. When designing the website, PDD was determined to answer the four questions every user has for small businesses: Who, What, Why, and Where.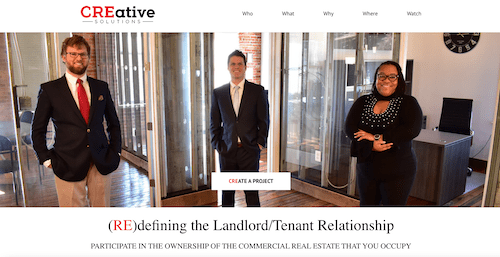 A "Meet The Team" webpage is an easy, yet effective way to introduce potential clients to the people they will be working with. It not only serves to humanize the brand, but it signifies that the brand is proud of its team. For Creative Solutions, PDD was able to design a unique and powerful way to highlight the well-deserving team.
Under Who, visitors will find short introductory videos for each member of the Creative Solutions' team. These videos are complete with background information about the team members, including education, career history, family life, and why they are looking forward to working with Creative Solutions clients. This gives users the opportunity to learn about Creative Solutions on a personal in-depth level, which helps them to determine if this company is the right fit for them.
Underneath each video, PDD has provided contact information for each team member, so potential customers can reach out directly to the person they might be interested in working with. Or if the user would like to reach out to Creative Solutions in general, Pink Dog Digital designed a convenient contact form at the bottom of the webpage for users to submit. The website's footer also offers the company's address, phone number, email address, and social media links.
Creative Solutions believes in representation, especially when it comes to small businesses and the commercial real estate they tenant. Under What, visitors can learn about all the products and services Creative Solutions offer to boost this representation, including Tenant Representation, Buyer Representation, Property Owner Representation, and Development.
Each service has its own call-to-action button that directs visitors to the individual service page. On these Services pages, the creative team at Pink Dog Digital created content that not only defined the service, but described how this service will benefit the small businesses that Creative Solutions serves.
Now that the user understands who Creative Solutions is and what they do, it is important for them to learn why they do it – and who better to explain it than the people behind the brand.
Under Why, using the same short video format as before, visitors can learn first-hand from the team why they got involved with Creative Solutions and why they believe the services offered are necessary for small businesses.
For many consumers, the "why" is just as important as the "what" when it comes to choosing a business to work with. Consumers want to know they are working with a company that will have their best intentions at heart. These videos offer a transparent and authentic way for Creative Solutions to communicate just that.
The final step in designing Creative Solutions' new website was creating a web page to show the areas the team serves. To do so, the PDD team designed a map of the state of Maryland that highlights the company's service areas. Under Where, potential consumers can easily use this map to determine whether or not they fit in the geographic areas shown. With this information on hand, users will immediately know if Creative Solutions is right for them.
If your business is ready for a new website, Pink Dog Digital can help. Contact us online or give us a call at 1 (410) 696-3305.