Our Top 5 Google Ranking Factors for 2022
Don't look now, but 2022 is barely six weeks away. Think about that. Kind of scary and also exciting. A new year brings opportunities, and also provides you with the chance to grow your business.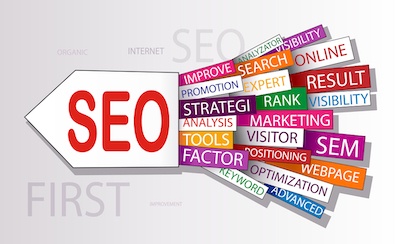 If you haven't already realized – Google is also making plans for 2022. They're making Google ranking changes and upgrades that you can use to help your search engine rankings.
You'll discover that most of the traditional methods are still relevant, but there are steps you can take to reap the benefits.
Content Is Still King
Google's prime objective is to give its customers what they're looking for – and while that may seem like a no-brainer, your website content needs to be engaging, informative, and impactful.
While SEO still plays an important role, the search engine's RankBrain algorithm isn't interested in keywords – it's designed to measure the number of clicks your content receives – and how long users stay on your page.
Keeping visitors on your page to read content requires solid writing that's free of grammar mistakes, typos, and eliminating subject matter that's not relevant to what they're looking for. Review what you've published and work to make it better. If you're strapped for time or uncomfortable with your writing skills, help is a click away.
The Secret to Keywords
The rule with keywords is quality over quantity. Of course you want your website to rank high when someone is searching for keywords, but you need to avoid stuffing your site with them.
Why? Google can recognize an overstuffed website, and it will rank you lower. Plus, packing in keywords makes your content awkward and hard to read, which pushes visitors to the competition.
Bring Backlinks to the Front
Linking to another site makes Google happy – and you'll be rewarded with increased traffic and clicks. Backlinks show that you know your audience and what they want. Think credibility.
With the right backlinks, you're also showing Google that your website is a useful resource. The challenge is actually working with other companies that will agree to linking with them.
It's simple to reach out and ask – and you can sweeten it by offering to write a free blog or similar resource. You're saving them time, and that's always appreciated.
The Right UX
When a visitor finds your website, they don't want to wander around to find what they're after. After all, when you walk into a brick-and-mortar establishment looking for televisions, you don't want to wind up in the gardening section.
A clean and intuitive user experience will lead them to what they want, and keep them on your site for longer periods of time. (Google loves that!)
Remember the basics of quality UX – short URLs, simple navigation, deleting duplicate pages and a solid sitemap that's designed for simplicity.
Be the Rabbit, Not the Turtle
Site speed can make or break your success on the internet. If your web pages take forever to load, visitors will leave.
Improving site speed usually requires a technical solution that includes compression to reduce file size, reducing redirects, optimizing your code and evaluating the speed and condition of your servers and hosting services. Unless you're a whiz at frontend and backend development, do some research and find a company that can help.
Pink Dog to the Rescue
Prepping your website to take advantage of Google ranking plans for 2022 doesn't have to be difficult or stressful. Not when you're partnering with Pink Dog.
We're a full-service digital marketing agency and we offer a variety of services to help your business establish a digital footprint.
Reach out to us today at 410-696-3305 or contact us online for more information!