How To Get Your Website Listed in Google News
Google News offers a continuous stream of articles, collected from new sources all over the world. Google personalizes each user's news feed based on preferences, interests, relevancy, freshness, authority, and user location.
Users can access Google News directly by visiting news.google.com, or by viewing Top Stories on Google Search.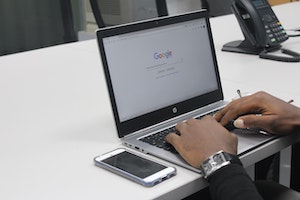 Up until 2019, Google required companies to submit their website in order to be considered for listing in Google News. But now, all websites are automatically considered for Top stories and News listings.
However, this does not mean every website will automatically show up in the News tab. Brands will need to produce high-quality content that not only follow these best practices, but also complies with Google's content policies.
Benefits of Google News
Brands should want to get their newsworthy content listed in Google News for the same reasons they want to boost their rankings in Google Search – it serves to increase brand visibility and website traffic.
Plus, Google News is one of the most trusted news outlets in the world. By association, users will begin to trust your brand over competing brands that are not shown in their News feed.
Once users discover your brand, they will be able to bookmark and subscribe to your content. This ensures interested readers will be able to see all your future content, as well as re-read past articles. Users will also be able to engage and share with news content, which will further boost website traffic and ultimately lead to higher sales and conversions.
Content Guidelines
As with all Google services, Google News only wants to provide their audience with the best content. To make the cut, brands need to produce content that is timely, relevant, and engaging. This means job postings, stock prices, and other dynamic information is not newsworthy.
Google requires all content to be accurate, original, and straight-forward. It must also be free of advertisements, videos, or other disruptive and distracting elements.
For companies that are struggling to identify newsworthy content related to their brand, start by focusing on industry experience, expertise, and opinions. This will signify to Google that your brand and content is trustworthy and applicable.
Technical Guidelines
Google News uses a computer algorithm to crawl new websites. To ensure the algorithm will be able to properly crawl and index new content, Google News has outlined a variety of technical factors that need to be satisfied.
All URLs and anchor links should not only describe the content and include keywords, but also be unique and permanent. Changing URLs frequently or using non-permanent URLs prevent Google from understanding your website.
All content should be presented in HTML format – Google is not able to crawl or read PDFs or JavaScript. Aside from programming languages, the content should also contain only spoken language.
Quality Guidelines
Google's quality guidelines are designed to prevent deceptive and manipulative behavior. The most common misleading practices include participating in link schemes, hiding text and links, publishing automatically generated content, and abusing structured data markup.
Instead, brands should be focusing on both preventing and removing hacked content and user-generated spam. These good practices are important because high-quality will improve user experience, which will lead to improved rankings in Top Stories and on the Google News homepage.
Optimization
When optimizing content for Google News, brands should always start with the basics. All content pieces should be housed under the "News" subdirectory so Google can easily understand it is news content. For example, Facebook News can be found at www.facebook.com/news/.
All news content needs to be accessible, valuable, and supported by fact. It should not include advertisements or product promotions.
Many brands make the mistake of not publishing enough content or posting too much content all at once. Instead, brands should seek to post frequently and consistently on a weekly or daily basis. To accomplish this, brands should create a news content calendar to stay organized and accountable.
Another great optimization tactic is to create a sitemap and submit it through Search Console.
A sitemap is a list of all the pages on a specific website. Brands should update their News sitemap every time a new piece of content is published. While websites with sitemaps are not favored or prioritized in search results, the sitemap will help Google find and display your news content quicker.
Submitting Website To Google News
Submitting your website is no longer required for consideration, but that does not mean it is not recommended. Signing up for Google's Publisher Center helps brands submit, manage, and monetize their content on Google News.
Companies can design and customize their section and content to fit their brand. The Publisher Center also gives websites the opportunity to monetize their news content by running ads within the article.
If you would like more information about getting your website listed, need help creating high-quality news content, or other digital marketing services please contact Pink Dog Digital at (410) 696-3305, email us at info@pinkdogdigital.com, or visit us on the web at www.pinkdogdigital.com.