How to Use Google Search Console for SEO
Google Search Console is a web service designed to help businesses manage their presence and visibility on Google Search. The Search Console is complete with a variety of tools, data, and analytics – all of which allows businesses to measure their website's performance and traffic. With this information, small businesses can fix issues, optimize content, and check indexing status in order to ultimately improve SEO and search visibility.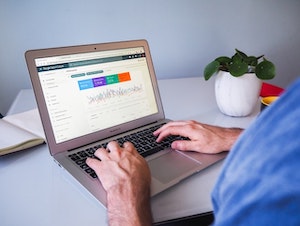 In August 2020, Google launched a beta version of Google Search Console Insights, which will allow content creators and publishers to better understand how users find their site and what content is the most impactful. With possible new changes to come to Google Search Console, the team at Pink Dog Digital wanted to cover everything our audience needs to know about GSC in the meantime.
URL Inspection Tool
The URL Inspection tool is a game changer when it comes to getting your web pages crawled and indexed by Google.
When businesses enter one of their URLs into the inspector tool, Google automatically crawls the page and submits the web address for indexing.
If brands are experiencing indexation problems, the URL Inspection tool can uncover URL errors and diagnose problem areas on your website.
Under the Coverage tab, businesses can discover any obscure 404 errors, pages labeled "no index", crawl anomalies, pages with redirects, and other errors resulting in indexing or ranking problems. Without this knowledge or insights, businesses would likely not be able to spot these deep, advanced issues.
Links
The Links tool in Google Search Console provides businesses with an in-depth look at their backlinks. This will help you to better understand where your links are coming from, and more importantly, identify potential negative SEO attacks.
In addition to backlinks, Google Search Console also offers an Internal Links report. Internal links give businesses the opportunity to tell Google which web pages are the most important. The internal link report shows which pages are the most linked to. If the page your website is linking to the most is different from your most important webpage, then your internal linking map needs to be reconfigured.
Another great feature within the Links section is the blocked resources report, which shows the URLs that are blocked to Googlebot. Removing these blocked resources is crucial to your website's SEO health – if Google can not access your resources, the page can not be properly indexed.
Search Results
One of the best pieces of information provided by the Search Console is how often your website appears in Google search results. On the Performance dashboard, businesses can view their results from the past 16 months. This data can further be broken down and filtered by type of search and date.
Not only will brands be able to discover where their audience is located and what devices they use, but also identify top performing pages, low performing pages, as well as number of clicks and impressions per keyword. Understanding your search results allows businesses to successfully improve their content and optimize web pages.
The Discover tool allows brands to understand how searchers are discovering their content. Knowing what content is performing well and leading to search results will allow your company to publish similar quality content to further SEO efforts.
Enhancements
The Enhancements section can be used to improve your website in a variety of ways, including speed, mobile usability, AMP, breadcrumbs, logos, and sitelinks searchbox.
The speed report allows brands to monitor and track how long it takes for webpages to load. If a change is made to a URL, this tool will let businesses know if the change improved or decreased the page speed.
The mobile usability report identifies mobile design and development issues, including problems with content width, links, buttons, and viewport.
Accelerated Mobile Pages, or AMP, are designed to improve page load time, increase readability, improve server performance, and boost ranking for mobile pages. Google Search Console's AMP report will alert users of implementation issues. Brands can even test changes and updates to their accelerated mobile pages before publishing to check for errors.
Similarity, Enhancements reports for Breadcrumbs, Logos, Sitelinks Searchbox will all show you performance and errors, as well as how to fix these issues.
Security and Manual Actions
Did you know that your website's security can directly impact your SEO? That is why the Search Console's Security and Manual Actions tool is so beneficial to companies.
Under the Manual Actions tab, GSC will let you know if your website has any current issues. If so, your company will receive a notification regarding your violation and the necessary steps you need to take in order to fix the problem.
The Security Issues section will alert businesses to security issues, such as malware, harmful download, or hacks. If there are issues detected, GSC offers ways to resolve the problems.
If you would like more information about Google Search Console, need help using Google Search Console for SEO, or other digital marketing services please contact Pink Dog Digital at (410) 696-3305, email us at info@pinkdogdigital.com, or visit us on the web at www.pinkdogdigital.com.