What Is Clubhouse?
If you have been online in the past few weeks, you have most likely heard about the new social media platform taking the world by storm. The appeal of Clubhouse stems from its exclusivity and ingenuity. Whereas TikTok is a completely video-based platform, Clubhouse is an audio-based medium.
How does Clubhouse work?
Clubhouse is a live audio social app where users can join different virtual chat rooms. Users can either passively listen or actively participate in the live discussion.
Users can find different chat rooms based on topics that interest them, such as wellness, relationships, entertainment, faith, or world affairs. Once a user enters a room, they can raise their hand if they wish to contribute to the conversation through audio clips. Only the creator of the chatroom and moderator are able to call users "up to the stage" to speak.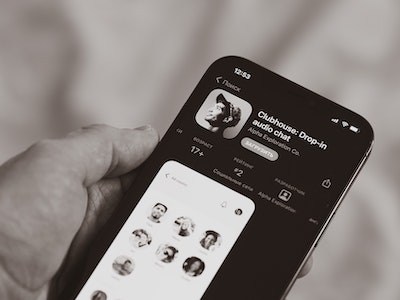 If a user does not see a specific discussion topic, they can create their own chat room. This allows users from all over to join your virtual room, ask questions, and participate in your discussion.
One of the best things about Clubhouse is that the possibilities are endless. Chat rooms can be created for virtually any topic, or even no topic at all. Plus, the purpose of the discussion can be any number of things – to tell stories, debate, learn, ask questions, share advice, or read books.
Clubhouse does not record anything, which means once the chat room ends, the discussion is gone forever.
Who can join Clubhouse?
The craziest thing about Clubhouse is that it is not even fully open to the public yet. Users have to be invited to join by an existing user. But, with over 6 million users and counting, receiving an invitation from a family member or friend might not be as difficult as it sounds.
Currently, the Clubhouse app is only available for download on the Apple App Store for iPhone users. However, in a pop-up message on the app, the Clubhouse team states that they are "working hard to get Clubhouse ready for everyone!" While we do not know for sure, we are hopeful that "everyone" includes Android users and all other smartphone users.
Even without an invite from an existing user, iPhone users can still download the app to reserve their username. Clubhouse will then notify these users if they have friends or connections on the app already who can let them in.
At this time, Clubhouse has not announced a specific date for when the platform will be open to all users. The creators still have plenty of work to do before the app is ready to go mainstream.
What makes Clubhouse special?
Compared to other social media platforms, Clubhouse fosters a real sense of community. Since this platform is strictly audio-based, it encourages open and honest discussion.
On Clubhouse, users do not need to worry about what they look like or what they are wearing. Instead, individuals are able to share their thoughts, feelings, and opinions without fear of being judged.
The unique design of the platform also serves to prevent common misunderstandings that arise when using text posts. Textual content can often be misconstrued or misinterpreted, but with audio content, users can use emotion and inflection to convey what they really mean.
A person's voice is powerful and unique. Speaking to and hearing another person's voice allows the conversation to feel more personal and real. This allows users to form genuine human connection with other users, which opens the door to friendship and other relationships.
Is Clubhouse good for digital marketing?
Clubhouse might still be in its developmental stage, but it already has huge digital marketing potential for small businesses. Every company knows that creating content is hard work, and not to mention time-consuming.
On Clubhouse, brands do not need to spend hours creating content, they can simply log on and join the conversation anytime and anywhere.
Company team members can join chat rooms that relate to the brand's industry or products and services. This is a great opportunity to share your brand's expertise and knowledge while building brand awareness. Businesses can even create their own virtual chat room to discuss different topics, answer questions, and share products.
One of the biggest benefits of Clubhouse for companies is the ability to build business connections and gain clients. To do so, each brand should ensure their team has set up their profile, complete with a profile photo, bio, and social media links. That way, when a brand finds an interesting or interested user, they can easily connect with and follow them, and vice versa. This connection will then hopefully lead to private conversations off the app, and deeper relationships being made.
Clubhouse also provides brands with a platform to test new ideas. If you are unsure about a new podcast idea or video idea, you can join a relevant chat room to see people's reactions, get opinions, and even get tips on how to improve your idea.
Or if brands are interested in seeing how their current ideas, products, and services are being received, Clubhouse is also a great tool for social listening and online reputation management. By passively listening in chat rooms, brands can get a sense of common problems in the industry and how their products can better solve these problems, as well as any common issues or questions among customers. With these insights, brands can improve their offerings and address any previously unknown issues.
If you would like more information about Clubhouse, need help developing a digital marketing strategy for Clubhouse, or other digital marketing services please contact Pink Dog Digital at (410) 696-3305, email us at info@pinkdogdigital.com or visit us on the web at www.pinkdogdigital.com.