Thomas & Herbert Consulting, LLC Website Launch
We at Pink Dog Digital are beyond excited to be announcing the launch of the new and improved website for Thomas & Herbert Consulting, LLC.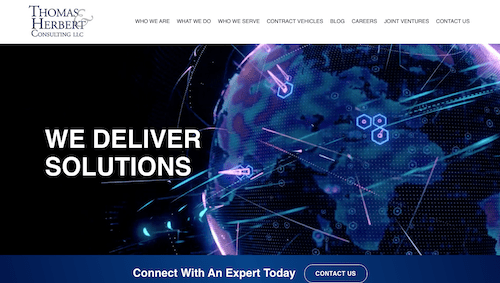 When it comes to web design, it is important to think of your website as your brand's chance to make a good first impression. If the website is outdated and poorly designed, then your bounce rate will only continue to rise.
That is why the Pink Dog Digital team was committed to designing a fully functional and modern website for Thomas & Herbert Consulting, LLC.
The overall look and feel of a website is one of the first things a visitor notices. The images, videos, and other graphics should all represent the brand in a subtle but clear way.
Throughout Thomas & Herbert Consulting's website, the PDD team incorporated visually stunning graphics relating to professional business services and technology solutions. This allows visitors to get an immediate sense of the company as soon as they visit the website, even if they do not know anything about the company yet.
Pink Dog Digital understands that a website's color scheme is a crucial element, but it is often overlooked or underestimated. If the website uses too many colors, it can become visually distracting and incohesive.
For Thomas & Herbert Consulting, we knew we needed a simple, yet strong color palette. Using blue as the primary accent color allowed the PDD team to create a minimalistic design, while still being able to highlight important website elements, such as headings and links.
Aside from being aesthetically pleasing, an effective website also needs to be usable. That is why Pink Dog Digital focused on creating an interactive web design that was educational, but not overwhelming. On each webpage, our creative team crafted textual content using precise language.
When designed properly, a functional website should also be able to to naturally guide the visitor through the different webpages. The truth is, if visitors are interested in your brand, they will want to know what they should click on to get to the next step.
Starting on the Homepage, PDD strategically placed call-to-action buttons to encourage users to explore other pages on the website, including Who We Are, What We Do, and Who We Serve.
From there, users will be able to learn everything they need to know about Thomas & Herbert Consulting – core values, team members, services, and current clientele. Once the user has finished exploring these informational pages and has all the valuable details they need, the intuitive web design guides users to the next step: contacting Thomas & Herbert Consulting team.
In the footer of every webpage, the Pink Dog Digital team conveniently placed contact information, social media links, and other ways for users to get in touch with Thomas & Herbert Consulting LLC. The footer also features other quick links to ensure website visitors are able to get to where they want to go without delay.
The Thomas & Herbert Consulting team is committed to delivering excellence and quality, and now, with the help of Pink Dog Digital, they have a website that does just that.
If your business is ready for a new website, Pink Dog Digital can help. Contact us online or give us a call at 1 (410) 696-3305.