What's Trending in Marketing Automation
While marketing automation has been around for years now, the pandemic has really shed light on this technology and how it can help businesses of all sizes. More organizations are either going virtual or are adopting a hybrid approach to sales and marketing, making automation their best friend.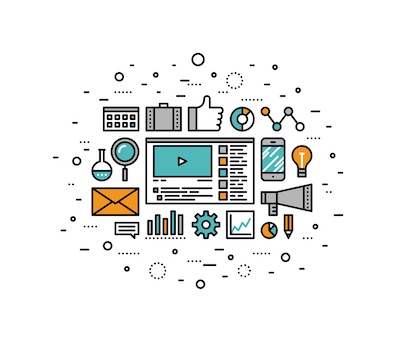 Given how important automation has become, it's no surprise that companies involved in marketing automation have been racing to release the latest and greatest new products. If you weren't convinced by the usefulness of marketing automation before now, you should know that 63% of companies using these tools outperformed their competitors.
That being said, let's review some of the top trends in marketing automation over the past year!
Chatbots
We'll start by saying that none of this is particularly new – but what is new about it is the more sophisticated artificial intelligence (AI) that comes with it. People want answers to their questions and they want them quickly, especially in our culture of near-instant gratification.
It obviously isn't practical for most businesses, whether small or large, to have someone available 24/7 to answer chats or emails. Today's chatbots are able to be programmed to answer your organization's most frequently asked questions.
Additionally, you can automate chatbots to capture names and email, allowing you to easily grab leads and respond personally if necessary.
Personalized Email Automations
There are so many different ways to handle personalized emails these days – but the important thing is to stand out. Most people receive dozens of emails every day. If your subject lines and content don't immediately capture the attention of your intended audience, you might as well not send the email at all.
This is why it's so important to segment your audience. You need to be sure that you're catering to each segment's interests specifically instead of trying to appeal to every name on your list with the same automation series.
AI within email programs can help you create segments and tags that will work best the names on your list, filtering them out depending on where they come from, what stage of the sales funnel they're in, and more.
Social Media and Content Marketing
One of the hardest things to keep up with when it comes to digital marketing is daily social media posting. It can be challenging to come up with regular topics, post to multiple outlets, and respond to all incoming comments and messages.
Add in content marketing at least weekly, and you'll feel like you never do anything other than focus on your digital marketing strategy. There are lots of tools out there that can help you automate your social media process.
Our favorite is the social media scheduling tool, which allows you to schedule to multiple social media channels at one time and customize for each one. There are also programs that can autogenerate social media posts and blogs, allowing you to just tweak them for your individual business.
We do recommend using care with these AI tools, though. While they can save time, you'll need to double-check the work that they spit out to be sure it's up to your quality standards.
Lead Generation
All of the automation tools out there work together well to improve lead generation. The main trick is to set up your automations so that they're properly targeting your intended audience. Otherwise, you're likely to end up with a bunch of unqualified leads.
Working with an expert in automation can help you bring all of the tools together, saving you both time and money. At Pink Dog Digital, we work with a variety of marketing automation tools to improve our clients' digital media marketing presence.
If you have questions or would like to discuss what's trending in marketing automation right now, reach out to us online or give us a call at (410) 696-3305.