Top 7 Reasons to Hire a Web Design Company
We've all seen the ads out there – "build your own beautiful website on x platform!" While the idea is a good one, in theory, it rarely works out as well as you would like it to in practice. These platforms offer a cheap way to get a halfway decent website online. The problem is that they only allow for so much personalization and they're usually missing some really key elements for a successful website.
This is where a web design company comes in. Will you be paying a little more to have your website built? Yes, definitely. Will it ultimately help ensure that your website is successful in the long run? Absolutely. Here's why.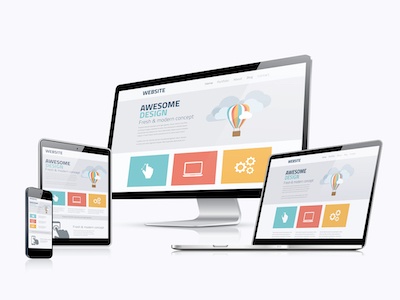 1. Save Time
Those platforms will allow you to build a website with minimal effort. However, it's important to remember that if you have little to no experience working in a web development environment, you're going to have a pretty steep learning curve.
Building your own website "quickly" is still going to require you to put in hours and hours of work to get your site just how you want it. And even IF you get it close, you're not going to be able to customize everything.
Working with a web design company is going to mean a lot less time and effort on your part. You'll get the final say, but the company will be responsible for the actual build and any necessary tweaks.
2. Help When Things (Inevitably) Break
It doesn't matter how good at web design you are. Things are going to break while you're building a website. Ask any expert in the field. The good news is that when you work with an expert, they usually know why things break or have worked with websites long enough to be able to eventually troubleshoot the issue.
Something that might take you four hours to figure out is likely to take an expert 20 minutes. Save yourself the headache.
3. Expert Optimization
We cannot stress enough how important it is to have a search engine optimized website. Simple website platforms allow you to optimize to a point but don't give you full reins on the back end of your website. A website design company can not only create a beautiful website but one that Google will recognize and rank as well.
There are a lot of factors that go into creating a perfectly optimized website. Web agencies are able to stay up-to-date on these factors so they can help your website continue to rank in an ever-changing SEO landscape.
4. Custom Designs
Templates make a great starting point for websites. In fact, we almost always have our clients choose from templates when we begin building a WordPress website. The main difference between designing it yourself and having a website company design it is the customization element.
Platforms that promise quick and easy design may let you change the colors up or move a few text boxes here and there but they don't give you the ability to fully customize your website, adding useful plugins and elements that can bring your site to life.
Moreover, custom designs give you more freedom and flexibility to design your site in a way that your users like better and are more likely to interact with.
5. Potentially High Return on Investment
Custom website design doesn't have to be expensive but it's going to cost a lot more than a DIY platform. The upfront cost can sometimes scare business owners away, but the ROI on a website that is attractive, optimized, and builds trust with potential clients and customers has the potential to make you a lot more money than a stock site.
6. Accessibility
We recently wrote a blog on the importance of adhering to ADA laws when it comes to your website. It should be accessible to people with a variety of physical and cognitive disabilities. Accessibility features are rarely built into websites, making it difficult for people to easily navigate them.
When you invest in custom web design, you're working with a team that understands the need for ADA compliance and what it takes to make a site accessible. Not only is it the right thing to do, but it can also help you avoid a $10,000+ lawsuit.
7. Scalability
Website design firms often offer more than just design. At Pink Dog Digital, we also offer social media marketing, email marketing, and online reputation management services, among others. When you work with an agency that already knows your brand, you can ensure continuity across all of your other marketing channels.
Most agencies allow you to scale up and down as you need to, depending on your budget or current campaigns.
Questions about hiring a web design company? Give Pink Dog Digital a call today at 410-696-3305 or contact us online!