Website Accessibility Matters [What You Need to Know Now]
If you're on our email list, you recently received a blast about the importance of website accessibility. We don't send one-off emails out all that often – usually just a newsletter once a month. So you know that when we send one out mid-week, mid-month, it's an important one.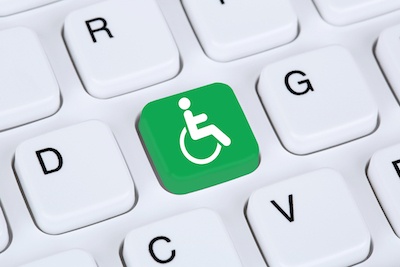 Companies across the country are getting sued for accessibility issues on their website. We're not talking about small lawsuits, either. This litigation is costing companies $10,000 or more on a regular basis.
For many small businesses, this can be a make-or-break situation, especially in the wake of COVID-19 changes. Now to the question on everyone's mind – what do website accessibility changes mean for you and your business?
Recent Accessibility Lawsuit Outcomes
Some of the most recent lawsuits have included large companies such as:
Dominos (Robles v. Domino's Pizza)
Five Guys (Lucia Markett v. Five Guys)
Hobby Lobby (Sean Gorecki v. Hobby Lobby)
Winn-Dixie (Gil vs. Winn-Dixie) grocery store
Due to the size of these businesses, their fines were heftier – up to $105,000. All of these lawsuits involved visually impaired people trying to access the company's website and were filed under the American's with Disabilities Act (ADA) Title III. This is the "public access" section of the ADA compliance.
Now, we are NOT lawyers, but we have been talking with industry experts, consultants, and companies that specialize in ensuring websites are fully ADA compliant since small businesses are also being hit with lawsuits right now.
In fact, a small shoe store in Clearwater, FL was recently involved in one of these lawsuits. They put their website up to attempt to expand their business but failed to comply with accessibility rules (at no fault of their own) and were hit with a lawsuit that could cost them $10-$20k.
What Can Your Small Business Do to Become ADA Compliant?
We really enjoy the small businesses that we get to work with and want to help assist you in being compliant. In 2018, alone, there were 10,163 federal cases RE: ADA & websites. In CA there were 4,249, that's a 54% increase in CA from 2017 to 2018. 
While we always work to implement elements that are required for ADA compliance, like alt tag fields on images, tab navigation, skip to main content, and other items, maintaining compliance means that every time the website is updated, it has to be checked again. Thus, it's not a one-and-done type thing, but rather an ongoing element.
We could build something compliant from the get-go if the law never changed and nothing ever changed on your website. However, laws and guidelines change, and websites need to be updated regularly.
So… where does this leave us? There are a few options:
Do nothing… however, you could be at risk of a lawsuit and we DO NOT recommend this!
Take your website offline… but now you don't have a business
Hire an ADA compliance company like SiteImprove ($5k+/month) or AudioEye ($10k+/year)
Use a "Free Plugin" service that only provides 20-50% coverage on compliance
Use our solution
We have partnered with some AI & Accessibility experts to bring our clients a tool that can help provide a compliant solution. Although there will be a cost to this, it's going to be a lot less than having to deal with the legal mess of a lawsuit or even one of the compliance companies noted above.
We are working to keep the cost under $200/month (+setup fee) to make it as painless as possible for our clients to stay consistently up-to-date on ADA compliance rules. In addition to being critical for avoiding lawsuits, it's also the right thing to do to improve accessibility for people living with disabilities.
If you have any questions about website accessibility or are ready to move forward with implementing this new tool, contact us today. You can email Gina directly at gina@pinkdogdigital.com or give us a call at 410-696-3305.