Top 4 Organic Graphic Design Trends
We hear the term "back to basics" in almost every industry, including fashion, music, health, and education. The back to basics movement is based on simplicity and conventionalism. This means focusing on a simple important idea rather than a million little complicated ideas.
When it comes to marketing, brands are often so caught up in creating complex graphic design, that they forget about what is most important: creating quality content for users.
By focusing on organic graphic design trends, brands will be able to draw inspiration from the natural world around them. Not only does this save time and resources, but the organic design also helps brands resonate with their audience by appealing to their connection with nature.
Organic Shapes
One of the biggest components of organic graphic design is natural shapes. By creating an abstract shape, brands are able to express the object or form in nature they are trying to emulate, such as plants or animals.
Organic shapes are defined as irregular or asymmetrical and can be identified by their free-flowing or curvy appearance. Geometric shapes, on the other hand, represent perfect and uniform objects that do not appear in nature, such as triangles or squares.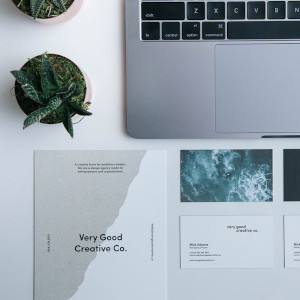 Since organic shapes represent objects found in the natural world, they have a clear meaning. If your brand relates to the environment or outdoors, match your organic shapes to fit the message of your brand.
For example, if you own a camping store, incorporate trees, bears, squirrels, mountains, ponds, and any other shapes that represent both the world and your brand. Organic shapes are commonly used in logos, illustrations, fonts, collaterals, signage, and packaging.
As the power of technology grows, many brands are taking advantage of digital illustration, digital watercolor, and digital design software. With these systems, it is easy for brands to create or tweak organic shapes by manipulating circles or squares. Although these software platforms are a great way to create content, do not be afraid to attempt hand-drawn designs. Hand-drawn designs are a great way to boost creativity while showcase just how authentic and genuine your brand is.
Neutral Colors
Another great way to capture the essence of the natural world is by employing a natural palette in your graphic design efforts. The most common colors used in organic graphic design include white, beige, brown, pink, grey, blue, and green.
The easiest way to choose an effective neutral palette is by sticking to the natural colors of the object. This means using blue for water, or green for plants and trees.
When used properly, color can be a powerful tool in graphic design. A neutral palette is not only aesthetically pleasing to look at, but it is known to have a calming effect on users. That is why neutral colors have become increasingly popular in stationary, social media, website, and other marketing templates.
Neutral colors can be used as a standalone design element or paired with brighter accent colors. Using a faded neutral color in the background will draw more attention to important content at hand.
Neutral Textures
In graphic design, texture creates a visual illusion that appeals to the viewer's sense of touch. Natural textures are commonly used to give designs an organic and handmade feel.
By digitally recreating the natural world, brands are able to provide viewers with a sense of realism and liveliness. Not only are natural textures eye-catching, but they provide users with a meaningful and immersive experience that will leave a positive lasting impression about your brand.
A natural texture can be created by incorporating real-life natural objects, such as paper, twine, wood, rocks, flowers, or other organic materials. Another great way to create texture is by uplifting patterns and colors, layering elements, and using shadows. Despite being strictly visual, these components help establish depth and add a tactile element for the user.
Botanical Design
Botanical design refers to graphic design relating to plants.
Whereas organic shapes are abstract versions of natural objects, botanical design represents flowers, leaves, fruits, and plants in their realistic form. This design style features a combination of fine lines, neutral colors, geometric shapes, as well as natural shapes and design elements.
Most organic graphic design is simply inspired by nature. Botanical illustrations depict the structure and color of plants based on real-life observations. Given the lengthy history of this design approach, botanical drawings are considered to be vintage or retro, which helps provoke an organic sense of nostalgia in viewers.
Botanical graphic design is primarily used in branding, illustrations, posters, and other signage.
If you would like more information organic graphic design trends, need help creating digital marketing content, or other digital marketing services please contact Pink Dog Digital at (410) 696-3305, email us at info@pinkdogdigital.com, or visit us on the web at www.pinkdogdigital.com.