Our Top 5 Favorite Web Design Trends
As web design experts, we like to stay on top of the latest web design trends. While we can't incorporate all of them since they aren't always SEO friendly, we do our best to adopt those that look great, are ideal for user experience, and also lend themselves well to search.
This year, we've been focusing on a few different trends as we build new websites for clients. Keep in mind that these aren't ALL of the most popular web design trends right now, but they are some of our favorites!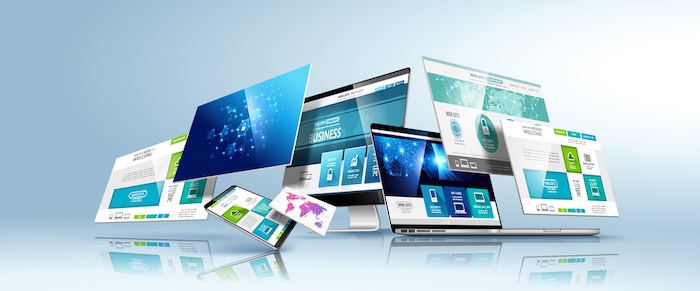 Accessibility
Web design and accessibility are no longer mutually exclusive. In fact, many organizations are working towards adopting more accessible websites. This is happening for a few reasons. First, the internet is not an inherently friendly place for people with disabilities. Strong organizations are working to change that.
Second, many organizations have been sued in the last year or so for non-ADA compliance. Small businesses are losing tens of thousands of dollars due to a lack of accessibility on their websites.
Making a site more accessible is possible with features such as:
Large text options
Text readers
Video options
High contrast colors
Keyboard navigation
This is just the tip of the iceberg. We've also partnered with AccessiBe, an AI and machine-learning company that provides accessibility for all types of websites. Learn more about it here.
Geometric Shapes
Strong geometric shapes have been popular for a while. Incorporating them into design, along with a strong color palette, can really make certain elements of your website stand out. These shapes can also be a part of larger patterns rather than standalone shapes.
Either way, they help give your site a more 3-dimensional look and are a good way to break up the monotony of an average website with a fun web design trend.
Texture
Gone are the days of plain white backgrounds. Adding some type of texture provides more interest to your site as a whole. When you help immerse your users in the website through a tactile sense, they're more likely to spend more time on the site.
Just due to the nature of computers, websites are only visual and audible. To some extent, you can engage feel as well through patterns with texture.
Parallax Scrolling
This web design trend certainly isn't new but that doesn't make it any less important. The point of parallax scrolling is to make a website look 3-dimensional. In order to achieve this illusion, the background of the site moves slightly slower than the foreground when you scroll.
Generally, we use this technique with elements such as boxes and text, but it can also be employed to create cool illustrations that look like they're moving as you scroll.
Illustrations
Speaking of illustrations, illustration-only sites have become increasingly popular in the past year or two. Rather than using stock photography or tired images, designers are turning towards custom illustrations.
These illustrations give the site a unique look and prevent organizations from reusing images that everyone else in their space is already using.
Update Your Website with New Web Design Trends
Has your website been updated recently? If not, it may be time for a full website redesign that incorporates some of the latest UX-friendly trends. To set up a time for a free consultation, contact us on the website today or give us a call at 410-696-3305.