The Hutt Company Website Launch
Pink Dog Digital recently worked with The Hutt Company to build a brand new, modern website! We were excited to work with Lou Hutt and his excellent team to bring them a website that would function well for them as well as their clients. We also aimed to ensure that lead capture was simple and efficient, with a contact form available on every page.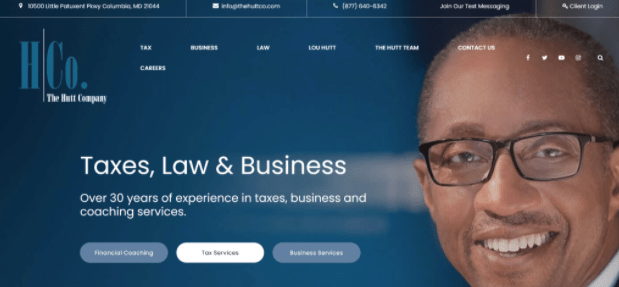 The Hutt Company Aesthetic
The Hutt Company works with small to mid-size businesses to provide comprehensive legal, business, and tax services. The main goal of their website redesign was to create an aesthetic that reflected the company's personality: refined and upscale.
Since they already had a logo in place that they were pleased with, our design team took its cues from that logo, incorporating the brand colors and aesthetic into every facet of the new website.
The site is high contrast, featuring clean lines and simple-to-use navigation. Every staff member is also featured prominently on "The Hutt Team" page.
Website Features
We wanted to ensure that the client portal was front, center, and easy to access. We added that in the top right corner for easy visibility. Additionally, next to the login, there's an option to sign up for text messaging directly from The Hutt Company.
Lou Hutt frequently gives interviews and has his own radio spot, both critical for Lou's business. Access to these is displayed "center stage" on the home page, as well, allowing users to catch Lou's Sirius XM show on-demand.
Content and Search Engine Optimization
Quality search engine optimization (SEO) is always a goal for us when we redesign a website. For this site, we provided recommended keywords and brand-new content covering all of The Hutt Company's extensive services.
Each section received its own page with unique content, then broken down into subpages that go more in-depth on The Hutt Co's offerings, from business advisory services to tax preparation. The Hutt Law Firm is also included under The Hutt Company umbrella and received a page to itself.
All of the content was written to the tone and voice of the client. Our SEO team then optimized the content to include relevant headers, keywords, alt tags, etc.
About The Hutt Company
The Hutt Company was founded in 1982. It is still owned and primarily operated by the Hutt family, including Louis G. Hutt, Kevin T. Hutt, Mahoganey J. Hutt-Butler, and Louis G. Hutt III. The team works together across all service offerings to provide a united plan for clients. Their value for all-encompassing teamwork benefits their clients across the board.
You can learn more about The Hutt Company on their website!
Questions about this website design or getting your own redesign? At Pink Dog Digital, we provide a full spectrum of digital marketing services, including web design and SEO. Give us a call today at 410-696-3305 or contact us online!