Cabin Fever Rentals New Website Launch!
As a small business that is very close to our hearts, Pink Dog Digital is excited to announce the launch of Cabin Fever Rentals new website.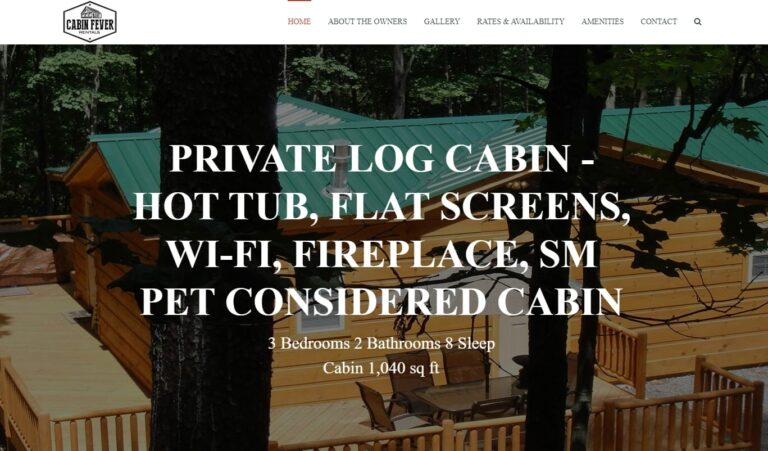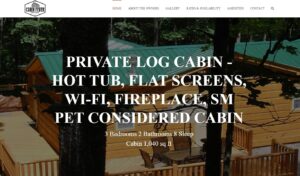 On the About The Owners Page, guests can learn a little more about someone they might already recognize: Pink Dog Digital founder Gina Ramsey. After searching for the perfect home away from home, Gina and hubby Brian set their sights on the perfect log cabin in Berkeley Springs, West Virginia. Now, the happy couple wants to share their adventures with fellow cabin fever travelers.
When it comes to vacation rentals or any small business product, potential guests try to envision their trip at that location before any reservation is made. That is why PDD resolved to craft a picturesque and vivid description of the cabin experience for all web traffic.
On the main page, potential guests can discover why this cabin is the perfect spot for any getaway. Located on eight acres of land, this cabin offers all the traditional features of camping, but with a modern twist.
Guests are welcome to explore the immediate surrounding area by hiking, swimming, or kayaking, but can also enjoy several indoor activities such as cooking, gaming, or good old-fashioned rest and relaxation.
A log cabin is only as good as its location, which is why the team at Pink Dog Digital was determined to include information about the Berkeley Spring area. Cabin Fever Rentals offers a lengthy list of activities, but guests can find even more attractions at the nearby state park and resort. Visitors can immerse themselves in the culture of the small town through dining, local art, and natural spa services.
If that is not enough for you, PDD dedicated an entire page to the amenities that the cabin and town have to offer.
Customer feedback is extremely important for both the business and potential consumer. Feedback allows businesses to learn what is going well and what is going not so well, which gives the business a chance to better themselves. The best business is one that is constantly improving to better their customer experience.
Testimonials from previous customers also serve to boost company trust and authenticity while increasing sales – seeing other positive customer experiences will influence passive viewers to become customers. Pink Dog Digital understands feedback is especially important in the vacation rental industry.
On the bottom of the main page, users can find testimonials from previous happy visitors of Cabin Fever Rentals. With such stellar ratings, Cabin Fever is more than pleased to share all the good experiences and adventures that have been had in the rental.
Cabin Fever Rentals prides itself on being upfront and direct with their clients, which means being open and honest about pricing and availability. On the Rates & Availability page, customers can view the night, weekend night, and weekly rate of the cabin, including additional fees and tax.
With the additional option of Book Now, guests can check the cabins availability in real-time and make a reservation all at once. Cabin Fever prioritizes a user-friendly and convenient design, so Pink Dog Digital was sure to deliver.