Your 2021 Comprehensive Guide to Google My Business – Part 2
Welcome to part two of our Google My Business optimization series! In this installment, we'll be going a little deeper into the optimization process. This is going to be the meat and bones of your Google My Business page, so you'll want to pay close attention to each section.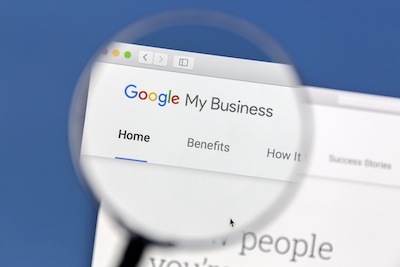 If you haven't read part one yet (where we cover how to get access to your Google My Business page), you can find that here. Without further ado, let's jump in!
NAP and Business Information
One of the very first things that Google looks at when pulling map listings is your name, address, and phone number – better known in the SEO world as your NAP. This information needs to be consistent across all of your online listings.
Generally, we recommend using Google's listing as a baseline for all of your other listings, including the one on your website. Copy and paste it EXACTLY as Google chooses to list it and make sure to check the following sources as well:

Social media sites
Online listings (Yellowpages, Yelp, Foursquare, BBB)
Your website and other networking sites that may have you listed
If your NAP isn't consistent across the web, Google may not recognize it at all or may even suspend your GMB account. While it's not easy to keep track of every listing out there, the more that you're aware of and able to change, the better your rankings are likely to be.
There are a few other simple sections you'll need to fill out under the business info section before you get into the more intricate ones:
Hours – Fill these out accurately, especially if your customers or clients come to your location. Often, Google will also give you the option to add holiday hours.
Service area – If your business is service-based and requires you to go out into the community, be detailed in your service area listing. It will help you show up in the map pack for more local searches.
Appointment link – This is a new feature from Google since COVID-19. It allows you to add an appointment link to a site like Calendly so clients can easily book time on your calendar.
We've said it before, but remember to fill out every section as comprehensively as possible.
Business Categories
Unlike nearly everything else on Google My Business, the Business Categories section is preset. You aren't able to create custom categories, but will instead need to use the options provided by Google.
The good news is that there are quite a few options to choose from. Even if you aren't able to choose one that is precisely what your business does, you'll be able to find something close. You can add multiple categories to make it feel more customized.
For example, at Pink Dog Digital, we have four different categories that strongly represent what we do: Website Designer, Marketing Agency, Advertising Agency, Internet Marketing Services. It doesn't cover everything we offer but it provides a good overview. Additionally, we're able to elaborate more in the "Products and Services" section, which we cover below.
Products and Services
This is where you'll really get to showcase your business' offerings. These two sections are separate. If you're an e-commerce or product-oriented company, you'll want to focus on the product section. Construction companies, electricians, plumbers, marketing agencies, etc, will want to focus on the services section.
Occasionally, it makes sense to fill out both – for example, if your construction company also sells or rents out equipment. However, most businesses only need to focus on one or the other. These sections are ideal for keyword placement.
Decide which keywords are most important for your business using Google Search Console or other tools like SEO Powersuite. Identifying these keywords is critical to your overall SEO strategy and ranking success. List as many services as you're able to without getting spammy.
It's also important to make sure that these products or services are listed on your website. If you list something that you don't actually do on your GMB page, Google will ding you for it, which can result in a fall in rankings. Once again, consistency is key.
Website and Other URLs
You absolutely want to list your website on your GMB page, but it's also important to include any relevant social media links, as well. This gives Google more information about your business and allows them to pull your social media posts directly into your Google listing.
Not only can this improve your rankings, but it can also help increase trust with people searching for your business. They want to see companies that are active online and clearly up to date with what's going on in the industry.
We know this is a lot of information to digest – if you have any questions about how to optimize your Google My Business profile or want to discuss more in-depth with a digital marketing agency, Pink Dog Digital can help. Give us a call today at 410-696-3305 or contact us online.